flySerra Pilot Jobs Newsletter
Please note: Your email will only be used for flySerra services and the flySerra Pilot Jobs Newsletter. This information will never be given to any third parties or any other recipients and will remain encrypted in the newsletter system.
Pilot Jobs Newsletters are both a great reminder tool of what is available out there and also serve to make sure that you do not miss opportunities. Often, by reacting late to new opportunities you find that everyone else has already benefited while you have lost out. You can always unsubscribe from the pilot jobs newsletter and your privacy is assured thus it would make little to no sense to not enjoy the benefits offered from updated and current news.
What kind of information will you receive in the Pilot Jobs Newsletter?
Industry trends and changes;
Current and future offers;
Services updates;
General news
The Pilot Jobs Newsletter – get it today:
Stay informed, subscribe today – it is free of course and you can always unsubscribe whenever you might need to.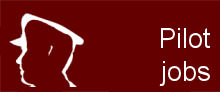 Want to receive updated information on jobs available and recruitment updates? Subscribe to the newsletter and stay updated with the latest news:
---
Have you joined flySerra yet? Why not join today?